Using AI to Address Five Critical Business Challenges in Healthcare
Date posted
October 4, 2023
Submitted by CallMiner (an Industry Partner participating in the Industry Partner Showcase on October 25)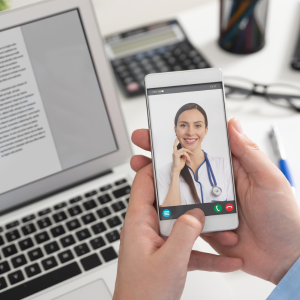 Healthcare organizations face a variety of challenges. Emerging from the pandemic into an uncertain economy, many facets of the healthcare business have changed forever. Staying ahead of the competition is a matter of embracing digital transformation, along with AI-powered technology that can help providers become more efficient, accurate, and empathetic to patients.
1. Consumerization of healthcare transforms patient expectations
Healthcare services are consumerizing fast, in part due to investments from major tech providers and retail pharmacies ranging from Amazon to CVS. This gives patients a wide variety of options if they aren't happy with the care they're getting today. At the same time, traditional healthcare providers must raise their game and improve the patient experience or risk losing customers to the most convenient alternative.
Conversation intelligence can help healthcare organizations understand their patient experience, getting ahead of surveys like Press Ganey or CAHPS for value-based reimbursement. Today, patients can sound off in any number of channels, ranging from doctor review sites to social media to the conversations they have via patient access centers. Monitoring and analyzing these customer interactions at scale can help healthcare providers understand where to make critical patient experience improvements.
2. Pandemic digital trends like telehealth become permanent
Certain technology advancements popularized during the pandemic, like telehealth, have become a modern convenience for patients. Whether they can't make it to their primary care provider for a routine visit, or they prefer telehealth, many consumers don't want to see these services disappear. One-quarter of patients accessed telehealth services in 2022.
Healthcare organizations can embrace the desire for telehealth and improve patient outcomes at the same time. AI, specifically in conversation intelligence or analysis of patient feedback, can be used to improve telehealth quality or measures of quality across the categories outlined by the National Quality Forum – access to care, financial impact, patient/provider experience and effectiveness of treatment.
3. Economic downturn exacerbates bad debt crisis
The bad debt crisis for hospitals and health networks is real. According to a Kaiser Family Foundation report, about 4 in 10 U.S. adults report having medical or dental debt, or roughly 100 million adults. Many expect that it will take years to repay this debt, and about 1 in 5 say they do not expect to ever pay it all off. Providers left in the wake of bad debt often cannot be reimbursed.
The practice of revenue cycle management (RCM) can become much more effective, accurate and efficient with the use of conversation intelligence technology. Conversation intelligence monitors 100% of omnichannel conversations to improve their efficiency and effectiveness, by identifying patient patterns, improving billing accuracy and reducing friction, and enhancing patient experience.
4. Increased government regulations drive a need for transparency
Regulations such as the No Surprises Act and Hospital Price Transparency Act are putting pressure on healthcare providers and health plans to increase pricing transparency for consumers. To respond to these challenges, providers must have standardized, repeatable systems in place to help consumers understand and resolve potential billing issues. These systems are important to scale not only for patient experience, but also for regulatory compliance purposes.
Automating certain quality assurance (QA) tasks can help alleviate these and other regulatory compliance challenges at scale. Most contact centers can only manually evaluate less than 2% of conversations. This leaves a large margin for error when it comes to compliance and QA. Instead, monitoring 100% of patient interactions and complementing conversation intelligence with human touch can ensure nothing falls through the cracks when it comes to both compliance and patient experience. This includes using conversation intelligence to improve processes, like patient scheduling, or provide life-saving care, like flagging critical situations to route to a nurse triage.
5. Ongoing staffing shortages and burnout drive emphasis on employee experience
A shortage of clinicians and contact center workers has left many healthcare organizations to consider alternative staffing options, such as contract staffing. However, many of these options drive up costs dramatically. As an example, for one hospital in New Orleans, non-agency labor costs grew just under 60% since 2019, while its costs for contract staff grew nearly 900%.
To address challenges with burnout and retain employees, it's critical to take steps to analyze the voice of the employee (VoE). To do this effectively, organizational leaders – whether HR or department supervisors – can survey employees, as well as capture unsolicited employee feedback from a variety of channels, including meetings with managers and supervisors, employer review sites like Glassdoor, and even social media channels.
Capturing this valuable data at scale can help leaders uncover and take action on potential issues and areas for improvement.
In our new whitepaper, Healthcare's Patient Engagement Revolution, we examine five trends impacting healthcare organizations in 2023 and beyond, and how AI can help alleviate the pressures hospitals, health networks and other healthcare providers face today. Dig deeper into each of these trends, and discover practical AI applications that can alleviate some of the biggest challenges healthcare organizations face today.